Tall Tale America
I have performed the Tall Tale America show at schools, conferences, and theaters throughout California and in Pennsylvania, Oklahoma, Missouri, and Texas – and probably in some places I don't remember. It has been one of the true joys of my life, but I am no longer doing the show on a regular basis. However, I am keeping this page up because it was so much fun – and you never know when I might be persuaded to come out of retirement.
TALL TALE AMERICA is a rollicking history of the American frontier told through the eyes of tall tale heroes from Davy Crockett and John Darling to John Henry and Pecos Bill.

Along with spirited tales from my illustrated collection, Big Men, Big Country, this one-man show presents historical anecdotes drawn from the extensive research for my National Geographic books, True Tales of the Wild West, and Trails of the Wild West, spiced up with authentic songs of the American frontier sung over guitar accompaniment. It's a funny and fun-filled performance experience that evokes the days when the American people first crossed the Big Muddy and headed west into the great unknown.

For me personally, TALL TALE AMERICA is the culmination of a long-held dream to combine my work as an author and historical researcher with my experience and training as an actor and musician.

For your students or professional organization, TALL TALE AMERICA offers a unique opportunity to touch the past while having a darn good time in the present.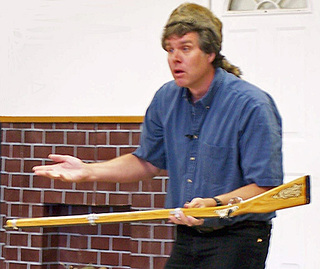 Davy Crocket chopped down a hollow gum tree and built a long, narrow canoe . . .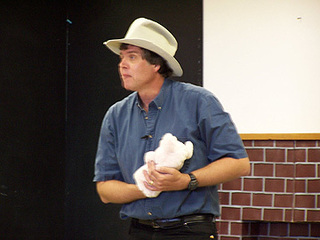 John Darling thought it was just about the prettiest pink piglet he'd ever seen . . .
Pecos Bill was a full-fledged cowboy by the time most folks are learnin' to tie their shoes.

Of course, Bill didn't wear shoes - he wore boots, a big Stetson hat, a red bandana, and chaps that carried half the dust in west Texas.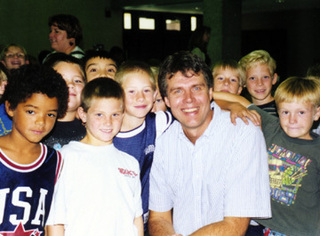 The following information is intended primarily for schools, but it also applies to professional conferences and general audience performances.

TALL TALE AMERICA is a theatrical performance rather than a traditional "author assembly" and as such it requires a different level of preparation. Every school has different resources and facilities, and I am willing to work with your specific situation. The following information will get you started:

General Information

TALL TALE AMERICA is a 50-minute show portraying the history of the American frontier through tall tales, historical anecdotes, and authentic songs.

The show really does require a solid 45-50 minutes to do it right. If you wish to have time for announcements, introductions, question and answer session, etc., please plan accordingly. A full hour is reasonable. If you require more than one show, please allow a minimum of 30 minutes between shows.

This is an extremely high-energy performance, and I cannot do more than two shows in one day. One show is even better. Of course, your needs will depend on your enrollment and the size of your auditorium or multi-purpose room.

In planning your schedule, remember this: THE MORE THE MERRIER. This show is meant for large audiences; I have performed for as many as 700 students at a time with great success. If I can "cover" your entire student body with one or two performances, then I have more time to interact with students and staff in a more intimate, small-group setting.

In a typical one-day school visit, I will do up to four events; i.e., 1-2 performances and 2-3 small groups, for a total of four. I will also gladly sign books, and I will help you with the details of ordering at a discounted rate from the publishers. See further info on the Order Books page.

Younger Audiences

The above time frames are for grades 3 through 8, which is the target audience for the show (and for most of my books). For grades K-2, I do an abbreviated version of the show, emphasizing the stories and songs without the historical background. The length for this kind of assembly can be more flexible, anywhere from 25 - 40 minutes. You know your students.

I find that 2nd graders can handle the whole show if they are with older grades. But the full show is just too sophisticated for K-1. They love the stories and songs, though! And I have a special tall tale just for them.

Technical Information

TALL TALE AMERICA requires the following:
• a stage or other suitable performance area (see note #1 below);
• a table for props (3' x 6' or 8' is good, but I can work with what you have);
• a P.A. system with two separate inputs, one for a microphone and one for my guitar (see note #2 below);
• a glass or bottle of water;
• a bunch of happy, smiling faces.

Notes

1. I usually work with a "bare stage," but if you are inspired to create a backdrop or scenery, that's wonderful. Some schools have created a forest set that works very nicely, but that's just one suggestion. If your facility has stage lights, please consider how you might use them to create a more powerful theatrical effect. Depending upon your students and your facility, it's nice to turn off the "house lights" and just work with the stage lights. I can give you more advice on this when I arrive.

2. I have a lapel-style, cordless microphone and acoustic guitar with built-in electrical pick-up. Both of these have a single-pole 1/4" plug, but I carry multi-pole adapters that will fit P.A. systems that do not accept single-pole inputs. If your school has a lapel-style, cordless mike of your own, please have it ready. If it's better than mine, I'll use it. If not, it will be a back-up. If your P.A. has only one input, we will either have to make do with the acoustic guitar sound (okay in a small facility) or make arrangements for an amplifier (essential in a bigger facility).