GIANTS! Stories from Around the World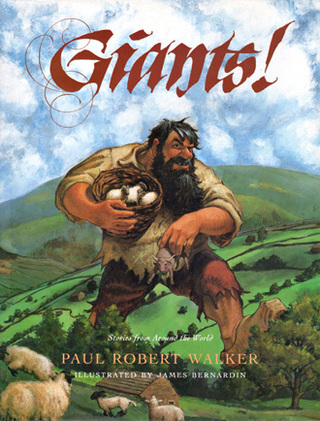 Illustrated by James Bernardin
Harcourt Brace • 1995 • OSI
ISBN 0-15-200883-7 • 80 pages • Ages 8-12

• American Bookseller Pick of the Lists
• American Folklore Society AESOP Accolade List

These well-told stories will please just about everyone: The large format works for story hours, the selection hits some multicultural notes, the interesting variations and source notes aid researchers. —Kirkus Reviews

A solid choice for family reading or as a resource for storytellers. —Booklist

There's a grandeur and purity in the writing that transports you right out of regular life and onto another plane—gigantic no doubt. —San Diego Union-Tribune

Long ago, in the time before time, a race of giants walked upon the earth. Then, not quite so long ago, a new race appeared—the human race—and the two races struggled for control of the world. Or so it was told in myths and folklore from the Pacific Northwest to the Middle East, from Scandinavia to South Africa.

Drawing from a wide variety of sources, Paul Robert Walker has researched and retold some of the best tales of giants. From foolish Jack who climbs the beanstalk and retunrs a wiser boy, to gallant David who slays Goliath, to kindhearted Boots who saves his brothers from a giant's curse, the stories are peopled with human beings who outwit the giant through cunning and bravery. There are stories, too, of an earlier time before people—of the great hero Kana who stretches to the Hawaiian sky, and crafty Coyote who frees the fish from the five giant sisters, preparing the way for the human race.

James Bernardin's imaginative and exuberant illustrations capture the power and wonder of Giants!, a collection of stories perfect for reading aloud.