LITTLE FOLK: Stories from Around the World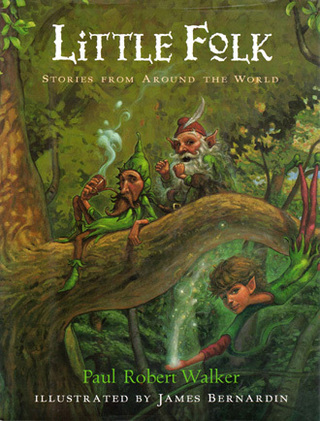 Illustrated by James Bernardin
Harcourt Brace • 1997
ISBN 0-15-200327-4 • OSI
80 pages • 8 1/2 x 11• Ages 8-12

• American Bookseller Pick of the Lists
• Storytelling World Honor Book

Having conquered the Giants (1995), Walker takes on the pixies in this first-rate companion book. . . . Each tale is accompanied by a classically styled full-page acrylic painting, as well as a smaller drawing. The extensive bibliography of sources, along with the detailed notes that follow each tale, is a testament to Walker's scholarship. The comparative, analytical introduction serves as a fine model for students of children's literature and folklore. —Booklist

Lucid, lively storytelling; thoughtful and informative source notes; and an attractive format combine in this entirely appealing collection of eight stories about "little folk." . . . Walker's retellings are as sprightly as the creatures he describes. . . . Bernardin's vivid acrylic paintings and colored pencil sketches highlight the text, often employing unusual perspective to emphasize the subject of the tale. A perfect pick to read aloud or alone. —School Library Journal

For centuries, tales of little folk have delighted people all over the world. No matter what these mysterious little creatures are called—fairies, dwarfs, elves, pixies, brownies, hobgoblins, or nunus—they are said to possess magical powers. Some find their power in their wit, others in their ability to change form, and still others in their name.

In Little Folk, Paul Robert Walker retells eight of these fanciful tales, drawing from a variety of sources and cultures, with energetic and amusing illustrations by James Bernardin. From Japan's brave Issun Boshi, who stands just one inch high, and Denmark's mischievous nisse to Hawaii's hard-working Menehune and Ireland's crafty leprechaun, this collection of folktales explores the wide range of stories told about the little folk who once shared our world—and maybe still do!