EVERY DAY'S A MIRACLE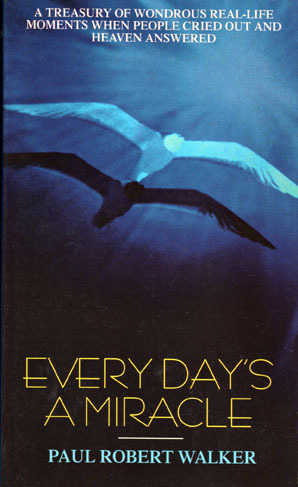 Avon Books • 1995 • (OP)
ISBN 0-380-78069-0 • 256 pages
• More than 60,000 copies sold.

From all over the world, from people of all faiths, come the remarkable stories of extraordinary healings, angels, rescues, births, visions of Mary, and more . . . an inspiring and uplifting reminder that we live in a world where EVERY DAY'S A MIRACLE.

FOR SKEPTICS AND BELIEVERS ALIKE

. . . touched by a power mysterious and glorious . . .

A doctor won the Nobel Prize for his scientific achievements but never forgot the miracle that made him believe in a power beyond science.

Stranded on a sheer cliff face 500 feet above a deserted beach, a young woman desperately prayed for a miracle . . . and an angel heard her call.

A poor and chronically ill Italian woman who could barely leave her bed turned her life around after she was healed by a stranger who appeared at her door collecting alms for a holy man.

A Native American who had been prepared for burial arose and announced he had gone to the gates of Heaven, where an angel had sent him back with a message important to all Native Americans.

And a couple who were told that it was impossible for them to ever have a child gave birth to Paul Robert Walker, who grew up to document his and other extraordinary stories in . . .

EVERY DAY'S A MIRACLE.