HEAD FOR THE HILLS! The Amazing True Story of the Johnstown Flood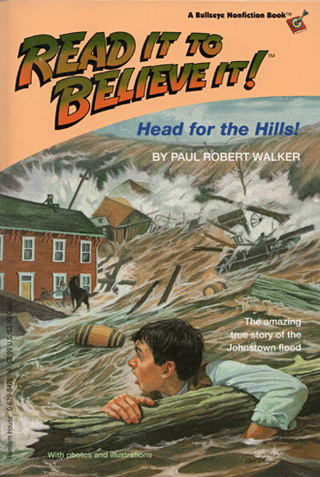 Read It to Believe It! series
Random House • 1993 • Bullseye Books
With illustrations by Gonzalez Vicente
(pbk) ISBN 0-679-84761-8 • (OSI)
(lib. bind.) ISBN 0-679-9471-2 • (OSI)
High interest • 3.0 Reading Level • 96 pages

Houghton Mifflin "Paperback Plus" Large Print edition (with ancillary material) • 1996
ISBN 0-395-73256-4 • $10.95

. . . combines vivid descriptions of the relentless sweep of the water with insights into some of the people caught up in the water's deadly path.
—Booklist

On May 31, 1889, an old dam crumbled in the hills above Johnstown, Pennsylvania. A wall of water as high as a seven-story building exploded into the valley below.

By the time the wave hit Johnstown, it was a muddy stew of trees and buildings, livestock and railroad cars, and hundreds of helpless victims. The water struck so hard that it tore the clothes off people's backs. Thousands of men, women, and children fought to survive the flood and the weeks of horror that followed.

Here is the incredible true story of one of the worst disasters in American history. It's a story so amazing, you have to Read It to Believe It!